Episode Details
We're back! Our first show after a year-and-a-half looks at the children's book classic, The Giving Tree, while diving into the Daou Brothers' bold California red blend, The Pessimist. Cheers!
Book
The Giving Tree
Author: Shel Silverstein
Publisher: Harper & Row (1964)



This is, without a doubt, the most frightening book cover ever printed. Silverstein looks like a serial killer staring down at his latest victim, trying to decide which parts he's going to eat first.

Click on the image to see it full sized, but be warned — it will haunt you forever.

Booze
2021 Pessimist, Daou Vineyards, Paso Robles, California

"The 2021 vintage delivers yet another stunning blend with trademark Pessimist flair . . . . Massive in weight yet elegantly structured, this wine is a powerhouse that reveals itself gradually yet deliberately. It finishes smoothly with leisure and length, on notes of blackberry, espresso bean and pomegranate."
Blend: 76% Petite Sirah, 12% Zinfandel, 10% Syrah, 2% Lagrein
Barrel Aging: 10 months in 50% new French oak
Alcohol: 14.9%
(Producer's website)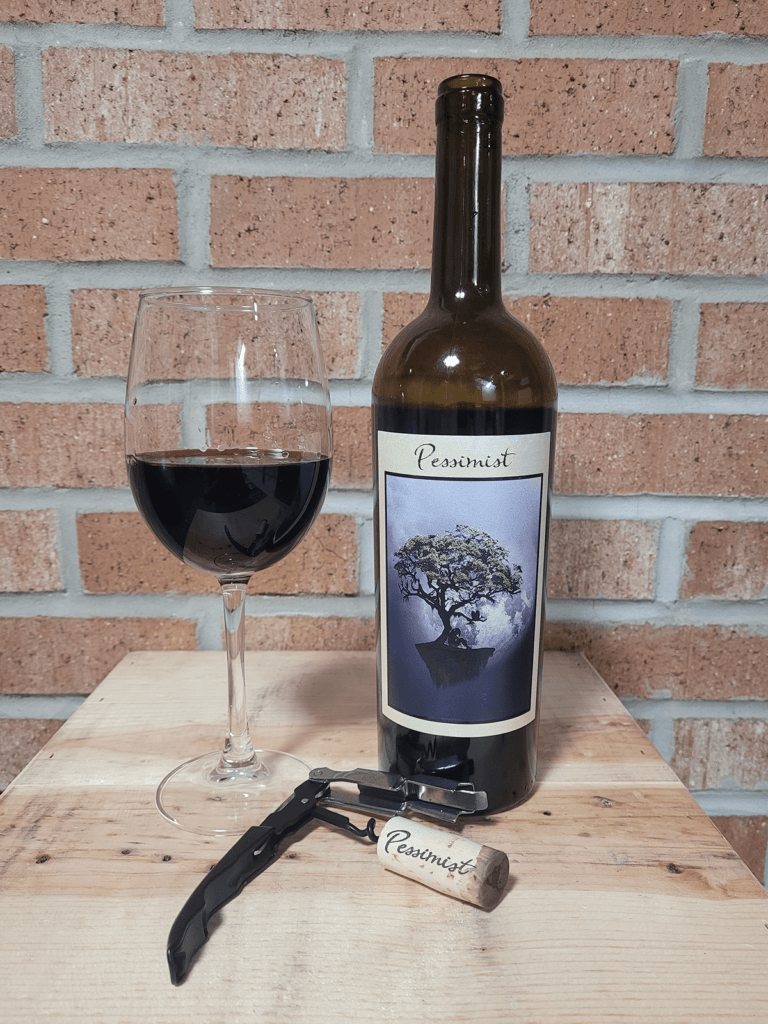 Lagrein Wine at Wine-Searcher.com — "The best wines from the best years are strong and full bodied with plum and wild cherry flavors, and the variety is particularly well known for the deep, dense color it imparts on wines. Lagrein often has a characteristically north-Italian acidic structure and a slightly astringent finish."

What Do 'Legs' Mean in Wine? at WineEnthusiast.com — "But don't let anyone tell you that wine legs indicate wine quality. So far, research has made no such connection . . . . "

Ranking the Top-5 Bum Wines, From Thunderbird to Mad Dog 20/20 at Thrillist.com — "Some call it 'bum wine' or 'brown bag vino'. But the cultured call it 'fortified wine', that ultra-sweet, high-octane "grape wine with citrus spirits" that gets a, um, bum rap because it's high on alcohol and low on price."

Links to source material & references
Shel Silverstein books in publication order at BookSeriesInOrder.com

"The Giving Tree is one of the saddest and most messed up children's books I've ever read." — Discussion thread at Reddit.com

"The Giving Tree" at Fifty: Sadder Than I Remembered by Ruth Margalit at The New Yorker

Reader-Response Criticism at Wikipedia.com — "Reader-response criticism is a school of literary theory that focuses on the reader (or 'audience') and their experience of a literary work, in contrast to other schools and theories that focus attention primarily on the author or the content and form of the work."

Reader-response theory overview at PoetryFoundation.org — "A theory, which gained prominence in the late 1960s, that focuses on the reader or audience reaction to a particular text, perhaps more than the text itself. "


Music
Our most excellent theme song was composed and performed by Arcontas Blank. Find Arcontas Blank on SoundCloud and Facebook!

Website Services
Visit SiteByMike.com to see what they can do for you!